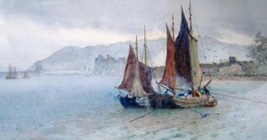 Fine Quality Original Oils, Watercolours, Prints & Objets d'Art
Rievaulx Abbey, Yorkshire
Description
A watercolour painting depicting Rievaulx Abbey, Yorkshire, by Edgar John Varley (1839-1888). A large and impressive work by the son of Charles Varley and grandson of the celebrated John Varley. Rievaulx Abbey is shown in the distance while a drover meets a maid on the farm track in the foreground. Edgar John Varley exhibited in London and elsewhere from 1861. He was Curator of the Archeological Museum in Westminster. Examples of his work can be seen in the Victoria & Albert Museum and Portsmouth City Museum. Almost certainly an exhibition piece, this pristine watercolour shows all the confidence and characteristics of the Varley family – one of the best-known groups of artists of the English School. The old labels on the verso give a precise history of this picture – back to when it was first purchased directly from the artist in 1871. Rievaulx Abbey Rievaulx was the first Cistercian Abbey to be founded in the North of England and became one of the most powerful monasteries in Europe. The atmospheric ruins were once home to the greatest spiritual writer of the Medieval Ages, St Aelred, who described it as 'everywhere peace, everywhere serenity, and a freedom from the tumult of the world'. A special exhibition examines the commercial activities of the monks and shows how religion blended with business, with the Abbey at the centre of a medieval-style industrial revolution.
Dimensions
44.5 x 60.5cms (without frame and mount)
Date
Mid-19th century.
Condition
Very good condition, professionally cleaned, mounted and framed.
POA
ID Code
as071a016
Enquire about this item