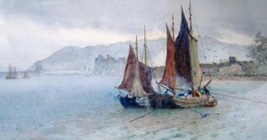 Fine Quality Original Oils, Watercolours, Prints & Objets d'Art
View All
Sold Items, Total : 8
A fine oil painting by Anne Christopherson (1821-). The pictures is presented signed AC and signed on the reverse, lightly cleaned and framed. Anne Christopherson is a painter on oil and teacher, born in India and married to the artist John Christopherson. Her work is mainly concerned with maritime and industrial scenes based on the Thames. This atmospheric painting depicts Greenwich ancient and modern, the masts of a sailing ship, the rows of back-to-back houses and the bare branches of the tree in the foreground contrasting with the funnel of the ship, the tall arms of cranes and the modern high-rise buildings in the background. A storm gathers over half of picture, perhaps significant of changes to come. Christopherson studied at Bournemouth College of Art from 1946 – 48, Goldsmith's College of Art, 1950-51, her teachers included Leslie Ward and Kenneth Martin. From 1951-62 she taught art at Blackheath High School and became a member of the Blackheath Art Society, Hampstead Artists' Council, WIAC and Greenwich Open Studios, and in addition, held a series of solo shows, beginning at the Siri Colvin Gallery (1967). Later shows included Higherwater Gallery (1990). A well-illustrated collection of Christopherson's work, Greenwich – Times & Tides, appeared in 2001. Her work can be currently seen at the National Maritime Museum, Greenwich.
29cmx39cm
SOLD
A view of King's Lynn Market Square by Adrian Hill (1895-1977), circa 1920, in watercolour, signed. Details verso. Adrian Hill is a well documented and accomplished artist, remembered as an Official War Artist in WWI and the first 'art therapist'. This fine and detailed work is a study of the Market Square at King's Lynn, circa 1920. Born in Charlton, Kent, Adrian Hill studied at St John's Wood School of Art, 1912-14, then at the Royal College of Art, 1919-20. During WWI, Hill was an Official War Artist, producing dramatic and outstanding sketches and paintings from the front line, many of which can now be seen in the Imperial War Museum, London. Hill exhibited widely, at the Royal Academy, the Royal Society of British Artists, the New English Art Club, the Royal Hibernian Academy and the Royal Institute of Painters in Oil, in the provinces and overseas, notably at the Paris Salon. His work can also be found in many public collections, including the Victoria & Albert Museum. As a result of injuries sustained during WWII, Hill developed revolutionary theories of 'art' as therapy and turned to his own paintings as a release from the boredom of recovery. Unwittingly, he became the first 'Art Therapist', a term he coined, and campaigned to promote the availability of art and artists. His story is documented in his books Painting out of Illness and Art versus Illness and many subsequent studies of the use of art in therapy. Netherene, a state psychiatric hospital, made history as the first hospital to employ Hill as 'art therapist' in 1946. His influence on the use of art in therapy has been widely documented in many subsequent journals, books and papers. Hill was also an accomplished and enthusiastic teacher, working at Hornsey School of Art and on the television in its early days after WWII. He also wrote many books on art, including On Drawing and Painting Trees, 1936, and The Pleasures of Painting, 1952. He lived at Midhurst, Sussex.
49.5cms x 65cms
SOLD
A fine watercolour painting by Arthur Tucker depicting Richmond Castle from the banks of the River Swale. Arthur Tucker (1864-1929) was born in Bristol in 1864, the son of the artist Edward Tucker, who taught him to paint, and brother of Hubert Coutts Tucker (known professionally as Hubert Coutts). Tucker was an accomplished artist who specialised in landscapes, mainly of the Lake District, although he also painted Welsh and Yorkshire views. Arthur Tucker exhibited at the leading London galleries from 1883, mainly at The Royal Academy, The Royal Society of British Artists, The Royal Institute of Painters in Watercolours and The Walker Gallery. He was elected a member of The Royal Society of British Artists in 1898. Tucker spent most of his working life in the Lake District where he became a founder member of the Lake Artists' Society in 1904 and later Vice President. He lived at Windermere.
17.5 x 29.5cms
SOLD
Norman Thelwell - Home from Work. Original watercolour. This picture is based on Woodchurch church in the Wirral, originally sketched by the artist in 1940. See Thelwell Wrestling with a Pencil. 1986. Norman Thelwell, artist and illustrator, was born in Birkenhead, Cheshire, on 3 May 1923. His earliest surviving drawing is a pencil self-portrait done at the age of 10, on which his teacher has written in red ink 'V. good indeed'. In later life he remembered always wanting to draw as a child and recalled finding drawing and painting much easier than other subjects - 'with drawing, the answer was always there in front of you - you only had to look'. His love of the countryside was fostered by childhood visits to a North Wales farm and was strengthened throughout his life. He joined the Army in 1941 and, through the years of war, both in Britain and in India, he always travelled with his sketchbooks. The first cartoon he ever had reproduced was an Indian subject for the London Opinion. He took some evening classes in art at Nottingham Art School in 1944, where he met a fellow art student, Rhona, whom he married in 1949 (their two children are also both artists). After the war, he took a degree course at Liverpool College of Art and in 1950 he started teaching design and illustration at Wolverhampton College of Art. His first cartoon for Punch was published in 1952 and led to a relationship which lasted for 25 years and over 1,500 cartoons, including 60 front covers. His first pony cartoon was published in 1953 and led to a lifetime of association with the image of the little girl and the fat hairy pony. As he said 'I was a sort of unofficial country cartoonist, doing funny drawings that involved birds, cattle, pigs and poultry. One day I did a pony drawing and it was like striking a sensitive nerve. The response was instantaneous. People telephoned the editor and asked for more. Suddenly I had a fan mail. So the editor told me to do a two-page spread on ponies. I was appalled. I thought I'd already squeezed the subject dry. I looked at the white drawing block and wondered what on earth to do. In the end I dreamed up some more horsey ideas and people went into raptures.' The 'Thelwell pony' was born. Thelwell left teaching to take up illustration full-time in 1956 and his first book, a collection of his cartoons, Angels on Horseback, was published in 1957. The first book produced from cover to cover rather than collected from drawings previously published was A Leg at Each Corner, published in 1961. This was serialised in the Sunday Express and led to the development of the strip cartoon characters Penelope and Kipper. Thelwell's range as a cartoonist went far beyond ponies - fishing, gardening, house-hunting, motoring, sailing, dogs, cats, farming, stately homes, children and country pursuits have all been given the treatment. He was a master of sharp social comment and sheer zany humour, and the foibles of the British at work or at play were his favourite themes. He was also a serious landscape artist, painting in watercolour and oils. His 32 books have sold over 2 million copies in the UK and been translated into languages as diverse as Finnish and Japanese and his drawings have been used on many different kinds of merchandise including stationery, jigsaws, table mats, china, glass, door mats, socks and bedlinen. A major retrospective exhibition of Thelwell's work, organised by Southampton City Art Gallery and the Cartoon Art Trust, started its tour of the UK in July 2003.
30 x 22cms
SOLD
Fishing Smacks on Conwy Estuary by Joseph Hughes Clayton. Watercolour drawing. Hughes Clayton was a popular northwest painter who lived in Liverpool, Anglesey and Cheshire from where he often painted popular views of the land and coast. Exhibited from 1891 to 1929, including 42 paintings at the Walker Art Gallery, Liverpool.
23.5 x 41cms
SOLD
William Lyons-Wilson - Pond Farm Through the Woods. A watercolour drawing, signed.
44x55cms.
Please ring Duncan Phillips on 01460 432090 for details
Florence Camm - Watercolour drawing for a stained glass window. A depiction of St Margaret of Antioch. In fine Arts & Crafts style. This is an early design for a stained glass window depicting St Margaret of Antioch. Florence Camm belongs to the famous family of stain-glass designers from Birmingham. Her father, Thomas William Camm (1839-1912) founded family firms of stained glass designers, first with his brothers John Matthew and Henry Charles as Camm Bros in 1882, and then under the name T. W. Camm & Co, from The Studio in Smethwick. Florence was one of three of nine children to join the family business to which she dedicated her life. The firm gained international reputation and received commissions from America, Spain, New Zealand and India. ??From 1892-1912 she studied at the Birmingham School of Art, until 1912 the year of her father's death, leaving the school to concentrate on the family firm of stained glass design. She was taught stained glass design by Henry Payne. c.1916: Taught art classes at the Smethwick Junior Technical School for a period. She is recorded as living at Warley Woods, near Bearwood, Birmingham in 1936. Thomas William Camm started making stained glass in Brewery Street before moving to larger premises, presumably the purpose-built studios still standing on the corner of High Street and Regent Street; with two breaks he continued to work in Smethwick until his death in 1912, and the business was then carried on by his daughter and two sons. The works was closed c. 1963. Camm's three brothers, who had originally been associated with him, returned to Smethwick from Birmingham in 1893, and started a business in High Street as Camm Brothers; as Camm & Co. the business produced stained-glass windows and other decorative glass until c. 1966. The firm enjoyed an international reputation and received commissions from America, Spain, New Zealand and India. The picture is close in style and drawing to a stained glass window: St Margaret of Antioch and St Cecilia , circa 1925, the centre piece of a three-light Landing Window from St Margaret's Well, Halesowen, Birmingham. Designed by Florence Camm and executed by her and Walter H. Camm for Thomas William Camm. (courtesy of Leicester Galleries). Florence Camm exhibited at the two works at the Royal Society of Arts, Birmingham; eight works at the Walker Art Gallery, Liverpool; forty-three works at the Royal Academy; and two at the Royal Scottish Academy.
41 x 57cms
Please ring Duncan Phillips on 01460 432090 for details
A view of Lyme Regis, Dorset, signed and dated. Watercolour drawing. Marriott was primarily a landscape artist who studied at Manchester School of Art under Walter Crane. He became the chief assistant to Gordon Craig at the renowned School for the Art of the Theatre in Florence. He is thought to have lived at Broadstone, Dorset, from correspondence with literary figures of the period. Views of Lyme Regis are always of historic interest and quite rare for what is now such a popular place.
21x27.5cms.
Please ring Duncan Phillips on 01460 432090 for details