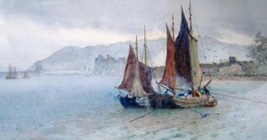 Fine Quality Original Oils, Watercolours, Prints & Objets d'Art
View All
For Sale Items, Total : 19
Page :
Previous
1
2
Looking for your own personal Christmas card design full of charm and the spirit of the season? How about using your own original watercolour painting? Horace Hammond - Christmas Day in the Farmyard. Signed watercolour illustration for a Christmas Card. Horace Hammond Exh.1902-39. Hammond was primarily a landscape painter and pen and wash artist. He worked as an illustrator producing cards etc. Lived in Birmingham 1902, then Kidderminster in 1927 and London in 1939, possibly at Wigmore Street. Exhibited at: 16 works at the Royal Society of Artists, Birmingham, 1 at Walker Art Gallery, Liverpool, 1 at the Royal Academy. Aka. H.Murray flourished in England around 1920. Murray is a pseudonym for the Birmingham illustrator Horace Hammond. His best work is both colourful, charming and evocative of an earlier age. Often has rural subjects. His work sells around the world.
25.5x18cms
Price £575
Please ring Duncan Phillips on 01460 432090 for details
A well executed watercolour painting by an unknown artist depicting Torbay / Torquay harbour scene with figures, naval vessels and port buildings. A fascinating glimpse of real life, possibly from the late 18th century or early 19th century. Possibly Plymouth or Portsmouth? This picture has been professionally cleaned and is presented in a museum quality mount with a complementary decorative washline.
23 x 32.5cms
Please ring Duncan Phillips on 07980 832639 for details
This pair of lake district scenes painted in watercolour are both signed 'John Gray'. The soft-focus style of painting is very similar to that of John Abernerthy Lynas-Gray, the artist who was exhibited widely from 1897-1928 across the Northwest and in London. Lynas-Gray is widely listed in most reference books. They are also typical of the North Wales type of painting from the late 19th early 20th century period.
Each 24 x 34.5cms
Please ring Duncan Phillips on 07980 832639 for details
"A Sleepy Afternoon" Watercolour, Signed, by James Waite Exh. 1881-1916. An accomplished landscape painter who often painted scenes of rural life, including many in North Wales. He exhibited extensively in the Northwest. Waite lived at Burton Joyce, Nottinghamshire in 1881. Liverpool in 1882 Seacombe, Cheshire 1896, Liscard, Cheshire 1902. Waite exhibited paintings at numerous galleries including Royal Society of Arts, Birmingham (2) Glasgow Institute of Fine Arts (2) Walker Art Gallery, Liverpool (92) Manchester City Art Gallery (9) Nottingham Museum & Art Gallery (4) Royal Academy of Arts (1) Royal Institute of Painters in Watercolours (1) Royal Scottish Academy (2) The painting is in good condition and has been recently reframed and mounted.
29.5x44cms
Please ring Duncan Phillips
A signed watercolour by Thomas (Tom) Rathmell, "Looking for Shade" Tom Rathmell is a well respected artist who lived from 1912-1996. Rathmell was born in Wallasey, Cheshire in 1912. He trained at Liverpool School of Art and at London's Royal College of Art. He moved to Newport after the war, becoming head of fine art and vice-principal of Newport School of Art and Design from 1947 to 1972, and influencing such well-known Welsh painters as John Selway. Rathmell worked in pencil and paint on a variety of surfaces and exhibited extensively in England and Europe but mainly in south Wales. Among his most commercial work was a series of commissions for illustrations for the Radio Times, undertaken in the 1950s. In 1969 he painted a commissioned work for the Welsh Office, representing the investiture of the Prince of Wales. He painted a mural for the Welsh Rugby Union in 1978 as well as portraits for schools, universities, and other bodies. Many of his paintings now hang at The University College of Wales, Aberystwyth. A posthumous exhibition of 71 of Rathmell's drawings and paintings was held at Newport's GPF Gallery. One of Rathmell's unusual claims to fame is that of being the father-in-law to the late rock singer and composer, Ian Dury. Rathmell's daughter Elizabeth met Dury at the Royal College of Art. They married and had two children, Baxter and Jemima.
30.5x44cms
Please ring Duncan Phillips
A fine and historic view of Berwick on Tweed, Northumberland, showing the Old Bridge, and a busy river scene, by Robert John Scott Bertram (1871-1953), a versatile artist and teacher born in Newcastle. The son of a ship's chandler, Bertram won a scholarship to the art school at Durham College of Science and Art in Newcastle and in 1895 was made a part-time assistant. By 1920 he had risen to master of design at what was then Armstrong College. He retired in 1937. Hi abilities made much-used by publishers in the northeast and he illustrated numerous books including Northumberland County History. His Newcastle upon Tyne Sketch Book appeared in 1914, a Durham Sketch Book in 1920. His works were shown at Laing Art Gallery, Newcastle and once at the R.A. Summer Exhibition. Bertram had a strong interest in historical landscapes and building preservation, belonging to the Society of Antiquaries in Newcastle, and its Pen and Palette Club. He retired to Whitby where he exhibited at the Pannet Art Gallery.
26 x 36cms.
Please ring Duncan Phillips
A watercolour painting depicting the Thames at Chiswick by Henry Charles Brewer, (1866-1950). Henry Charles Brewer was the son of the artist Henry William Brewer. He studied at Westminster School with Fred Brown and went on to exhibit extensively at the Fine Art Society, the Royal Academy, the Royal Institute of Painters in Watercolours, of which he was a member, and widely in the provinces and abroad. Brewer lived in London and painted extensively around the city. A studio sale of his works, from which this painting originated, was held at Christie's, South Kensington, in 1989. This work is typical of Brewer's loose style of painting, well suited to the watercolour medium.
30.5 x 25.5cms.
POA
Page :
Previous
1
2